For more information or to place your order please visit: "beemineproducts.com"
Use our Code to save on your purchase!
BEE MINE- BEE-U-Ti_FUL Deep Conditioner
100% Unrefined Shea Butter;
100% Organic Coconut Oil;
Optiphen (fprmaldyhyde & Paraben Free Presevative); and
Fragrance (phthalate Free).
This is a Protein Free Product
"Detangles, and restores essential moisture and manageability. Cupuacu butter provides some protection from damaging IV-A and UV-B rays while helping restore elasticity, add shine and replinish the moisture in hair.
OUR EXPERIENCE:
After shampooing Ms. Bree's hair I divided her hair into four sections, as all of you know I'm a big fan of working in sections;
I applied a generous amount of the Deep Conditioner to her hair, working from root to ends to each section, then I secured each section in buns by using a large alligator clip.
As you can all see on the picture above, Ms. Bree has a big smile!
I give all the credit to the Deep Conditioner!
It was so so creamy that her hair WAS NOT hard or difficult to manage after applying the deep conditioner. That Ladies and Gentlemen is a PLUS FOR ME!!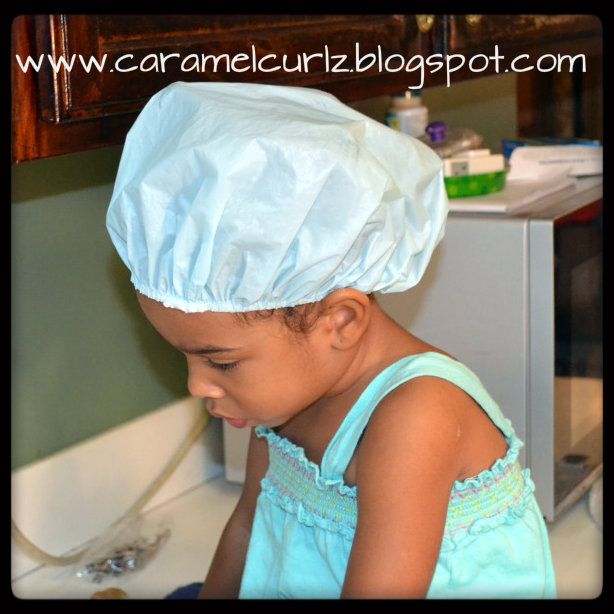 After I had applied the Deep Conditioner to all four sections, I use a plastic shower cap (kids size) and let the conditioner sit for approximately 25 minutes.
But you can use a warm towel in lieu of the shower cap, I prefer the shower cap since Ms Bree is so young.
After I rinsed her hair throughly, her hair was amazingly soft, styling was a piece of cake after that... Her hair was so moisturized that no extra coat of conditioner was required (as I would with other treatments).
PROS: OMG, too many to name, so I'm going to summarize it: the deep conditioner really made her hair soft, shiny and made detangle process after applying it to her hair so much easier.
CONS: NONE!
We truly recommend this product, it is an amazing deep conditioner that meets all the needs of any curly top!
(Bee Mine Products Review)
Bee Mine Luscious Balanced Cream Moisturizer:

Where do I begin with this? I'm going to make this nice and short! I absolutely love this moisturizer! How did I go all this time without it? I truly wish I could have found this product sooner but unfortunately it is not a product that can be found in my local hair store.
Now, I have to say that I received the package a lot faster that I had expected... BIG PLUS!! I did not have to wait 5 to 10 days to get my box.
Ingredients:
Distilled water,
Hydrogenated Persea gratissima (Avocado) Seed Oil, Mangifera Indica (Mango) Seed Butter, Cocos Nucifera (Coconut) Oil (and) Aloe Barbadensis Leaf Extract, Butyrospermum Parkii (Shea Butter), Persea gratissima (Avocado) Oil, Simmondsia Chinensis (Jojoba) Seed Oil, Emulsifying wax, Hydrolyzed Wheat Protein, Paraben & Formaldehyde Free Preservative & Fragrance.
Scents available:
Original - Island Mango (IM) Scent and
Coconut Cream (CC) Scent
Product Description :
Our moisturizer is enriched with pro-vitamins, natural proteins and healing butters that heal seal and nourish your hair and scalp. Beautiful hair requires a complete balance of moisture and protein to prevent breakage. This light cream moisturizer help to prevent split ends and strengthen hair from root to tip.
We have now been using this moisturizer for a little over a month. Ms. Bree's hair has very to no split ends and she is not losing a lot of hair during the washing and detangling process as she was doing before.
My daughter's hair is super soft and very manageable.
This shea butter and aloe based curly butter is packed with rich moisturizing nutrients to give you long lasting moisture and promote growth. It has a soft touchable hold that will help to defrizz your frizzes and give great definition. This Curly Butter is wonderful for twists, finger curls, puffs/pony tails and especially for laying down unruly hair. Great for naturals, relaxed, texlaxed, everyone.
Scents available:
Coconut Cream,
Unscented,
Island Mango (Tropical Mango)
Ingredients: 100% Shea Butter, 100% Aloe Vera Gel, Essential Oil Blend, Vegetable Glycerin, Rosemary Leaf and Chammomile Extract, Silk Powder, Paraben & Formaldehyde Free Preservative and Perfume.
With this product what originally attracted me to it was that one of the ingredients is 100% Shea Butter. (I am a big fan of Shea Butter and Coconut Oil)
Once I received the product and used it on Ms. Bree's hair in combination with Bee Mine Luscious Moisturizer I immediately loved it! The texture of it is very light and the smell its amazing. I purchased the Coconut Cream Scent (See, here I go with "coconut" again).
I used both products to do her braids and 2 strand twists and her hair looks shiny and smells nice!! It also makes her hair more manageable. Both products can be used for before styling on wet or to keep the styles looking nice.