This is going to be a very short post. I decided to do something simple and not do a style that required for her hair to be in braids or twists for several days. My husband likes to call this "the girl with the four puffs".
BANDING THE HAIR: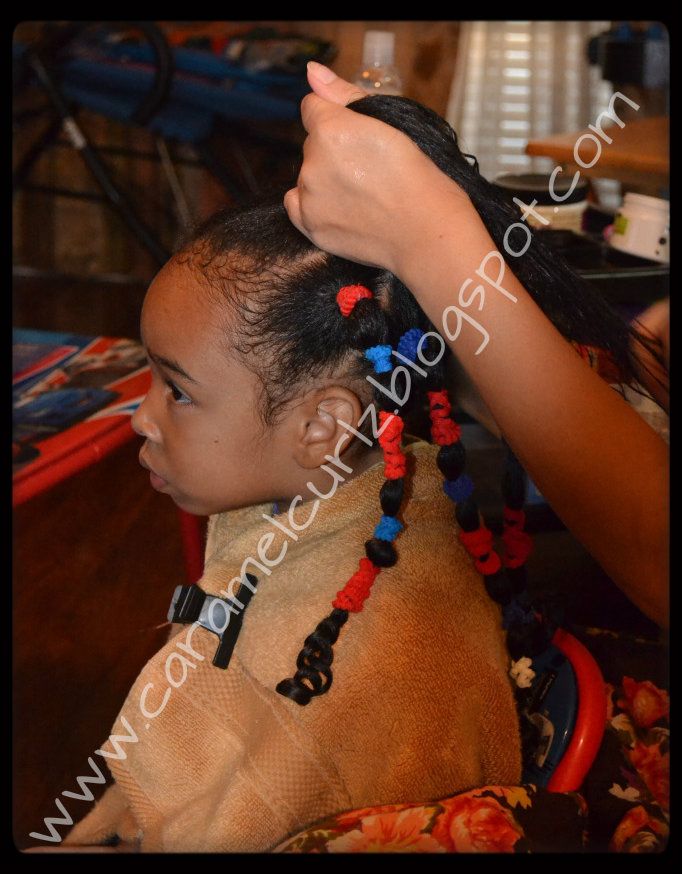 After washing Ms. Bree's hair with Curly Q's Curlie Cutie Cleansing Creme;

I detangled her hair with Herbal Essence None of Your Frizzness then I lightly rinsed it out (to see a more detailed description of our detangling process, please visit our "Washing/Detangling Routine" tab;

I applied Bee Mine Luscious Moisturizer all over her hair;

I made sure that the hair was free of any knots and tangles.

Once the hair was detangled, I divided her hair into eight sections, then banded each section by using cloth covered bands.

I let Ms. Bree go to bed with her hair banded.
BANDING IS A FUN STYLE TOO!
As all of you can see, Ms. Bree loves to play with her hair and banding allows her to do just that.
She went to school with her hair banded and the hair still looked nice at the end of her school day.
(If I do her hair during the week, I always make sure I coordinate the color of her bands with the outfit she is to wear the following day.) I know, don't judge me, I'm weird!
THE RESULTS!
I finally took the bands out on Saturday before we went out, and put her hair in 4 big pony tails. I applied a little bit more of Bee Mine Luscious Moisturizer to each section and added a white flower on each end (optional).
All ready to have fun!