The infamous cornrows! This particular style has become more popular now than ever. This is a style that can be done in kids or adults, women or men. Cornrows are also another great protective style for curly hair and is highly done during the hottest months of the year.
While some people are very talented and are able to do the most interesting and elaborate designs you can think of, that doesn't mean that you can't learn how to do simple straight cornrows.
WOW, I must say that it took me about a month to learn how to cornrow. I watched several you tube videos, read many "How To" guides and the only way you will learn is by practicing.
TIP: Believe it or not, this also came from my husband: He suggested I purchased a Cosmetology Mannequin Head from the local hair store and practice on that. I must agree that it was one of the greatest ideas my husband has ever had. While I was very hesitant about spending money on buying the Mannequin Head, it was worth it! I found one for $34.99 and practice on that for about a month. After that, I felt confident enough to try it on Ms. Bree's hair.
Yes, I had to re-do one or two cornrows but the results were amazing! Specially from someone who didn't know how to cornrow a month ago.
As we all know, cornrows are another great protective style for curly hair and
because its very easy to maintain. They can be left in for days or for several weeks at a time as long as you carefully moisturize them.
You can adorn the cornrows with colorful beads, snaps, clips, pretty much anything.
Cornrows into Pony tails (then braids out):
Day 3: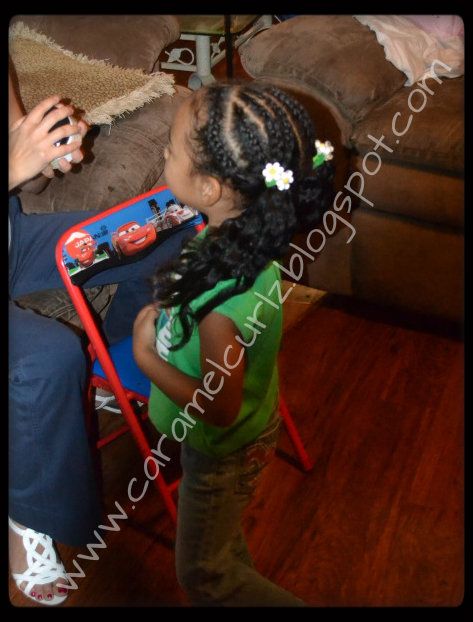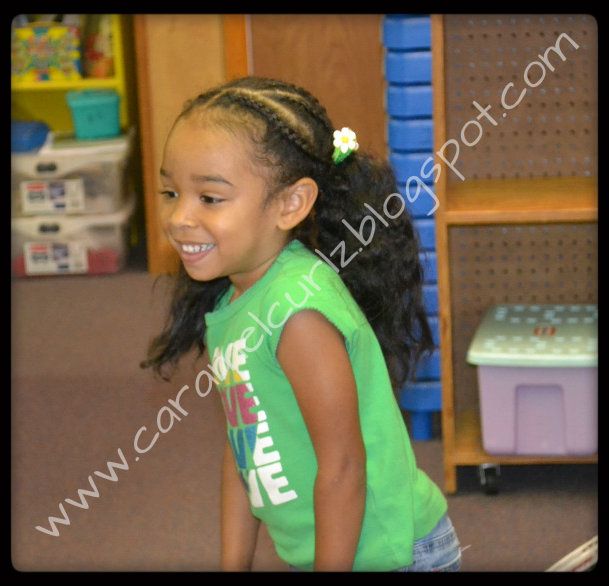 Cornrows into a messy bun:
When I realized that her pony tails were getting a bit frizzy from playing outside, I twisted each pony tail (2 strand twist technique) and then twisted both pony tails together and created a bun.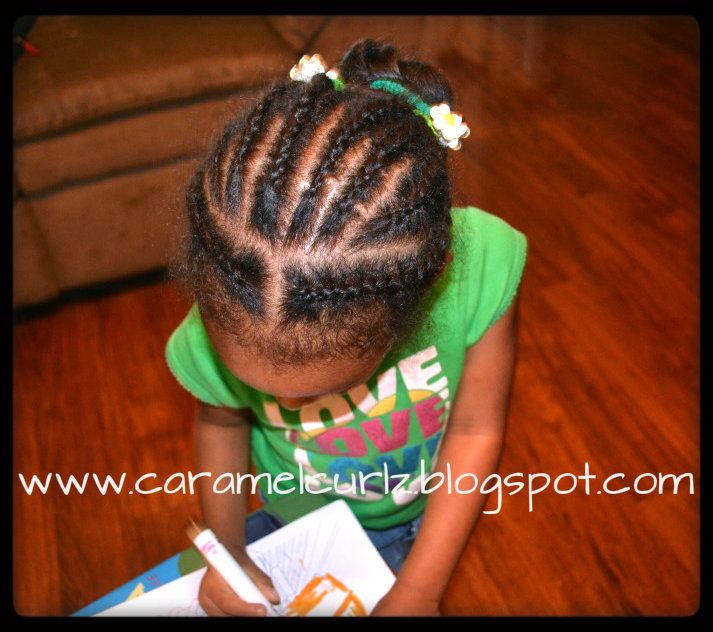 The more you practice doing the simple straight cornrows, the more you will get used to the technique and in no time you will be able to do the more elaborate designs.