Wow, where does the time go?
And for her big day I'm doing a lot of things by myself, for example the cake, the food and the party favors. I have also purchased several items to transform my formal dining room into a "Royal Cafe" and I will be decorating the entrance where all her guests will be stopping to take pictures by a 5 piece Disney Princess Scene Setter.
Ms. Bree is a big fan of Disney Princesses, especially Belle & Cinderella. Based on her love for the princesses I decided to do a "Princess Tea Party".
Princess Party Favors:
How to make them:
* Disney Princess Party Cup ($0.99 each)
*
Fill the cup with paper crinkle (I used Ms. Bree's favorite color, "Purple") ($2.99 Medium Size Bag)
* Place your favors, we used the following:
Clip

Maze Puzzle

Prism Viewer

Wand

Heart Bracelet

Bead Necklace

Box of 4 Crayons

Mini Princess Pen
* Slip the cup inside a clear bag ($4.99 for 16 bags)
* Tie shut with curling ribbon. (I used the color pink- $1.99)
Simple and perfect, very worthy for the little princesses!
The Princess Pinata: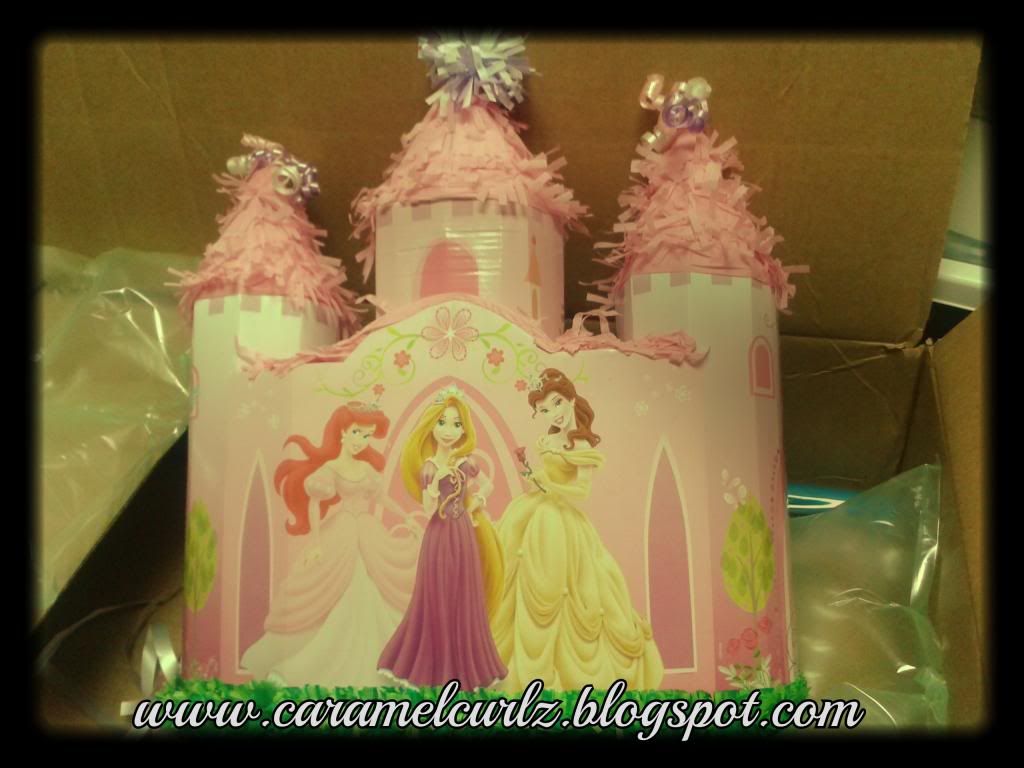 I actually bought this from Party City Online. You can find different styles and sizes at the store but they didn't have this specific style. What I liked about it was the fact that she can pull the strings to release the candy instead of hitting it with a stick. Although I did purchased the stick and blindfold.
Price: I paid $19.99 plus tax and shipping/handling. But y
ou can also find something similar at Toys R Us as well.
Description:
This Disney Princess Castle Pinata features a sweet pink castle with 3 turrets, a pink tissue roof and the Disney Princesses waiting on the lawn. With a pull string pinata, there is no hitting. Just take turns pulling ribbons on the pinata until one ribbon opens the hidden door and releases its contents. Fill Castle Pinata with candy or favors (sold separately) for a fun party activity or simply use the pinata as decoration. Disney Princess Castle Pinata measures 16in wide x 17in tall.
The Music:
As some of you may know, my daughter loves to sing and dance along and she has most if not all the Disney Princesses Sing Along DVDs!
Therefore, I thought..why not make this memory even more enchanted for her by playing all her favorite music in the background??
This CD can only be purchased online for $9.99 and includes all of her favorite songs like:
Reflection

Part of Your World

Just Around the Riverbend

Colors of the Wind

Beauty and the Beast

A Dream Is a Wish Your Heart Makes

Once Upon a Dream

So This Is Love

Candle on the Water

I Won't Say (I'm in Love)
The other 10 tracks are actually just musical version of every song mentioned above and the kids can sing their solo!
The Flowers:
Step 1:
2 Green Floral Foam ($2.99 for a pack of 2). You can purchase these at any crafting store and Walmart.
Step 2:
Using construction paper, wrapped around the foam. Make sure its completely covered. Don't worry about covering the bottom of it, but if it bothers you that much, you can cover the bottom as well.
I use purple and pink paper ($0.99 each sheet)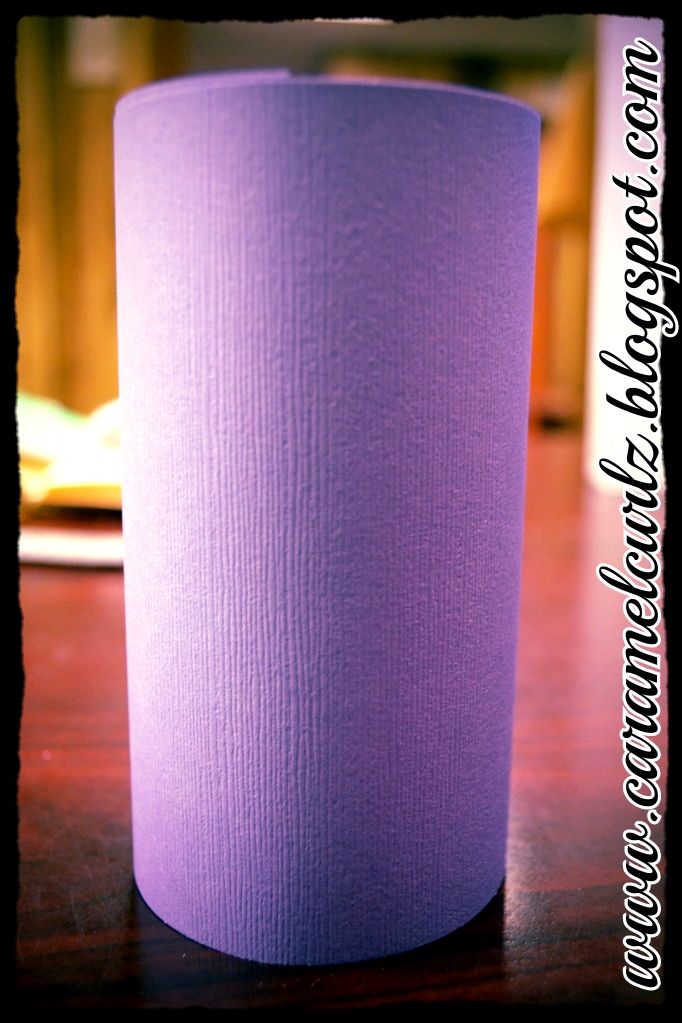 Step 3:
Draw leaves pattern all over the green construction paper. You can draw the leaves as big or as small as you'll like.
Step 4: Cut the leaves out;
Step 5: Using your glue gun (or any type of glue) glue the leaves all around the top edge or you can glue them as together or as far from each other as you'll like.
Step 6: Place the gem stone stickers at the bottom of each leaf.
Step 7: Place the stickers of your favorite princess below the leaves.
Step 8: Using glitter glue, draw fun patterns within each leaf. NOTE: this step should be the last thing you do, the glitter glue takes approximately an hour to dry depending on the amount you use.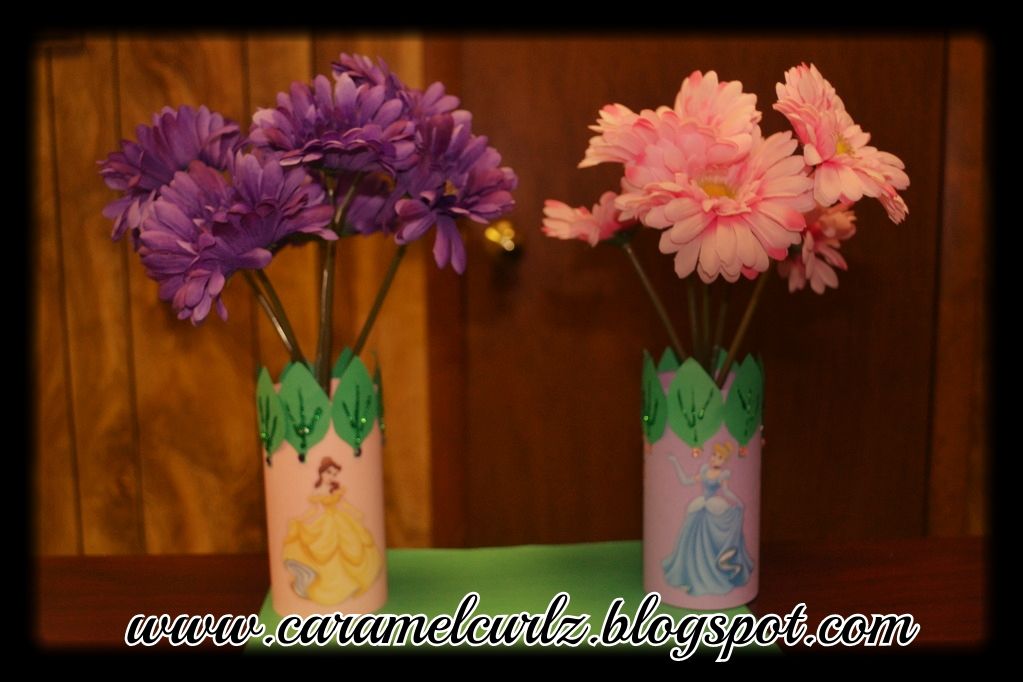 These are just some of the items I have done so far. As I said before I am doing a lot of the decorations myself as well as the food and the Royal Castle Cake.
I will be posting the second part of this post hopefully three days after her birthday bash which is set for February 16th!
Don't forget to follow us:
Facebook:
http://www.facebook.com/CaramelCurlzNSwirls?
Twitter:
https://twitter.com/CurlzNSwirls
Instagram: caramelcurlznswirls