This past weekend we celebrated my first curly top- "6th Birthday"... My little man surely is growing up!
Lately my husband has asked me to let Ms. Bree's curls out and free! I know my daughter is a very busy little one and she truly hates her hair touching her face. When I asked Ms. Bree how did she wanted to wear her hair to the birthday gathering....she replied.. "LONG AND DOWN".
So here it is... "LONG AND DOWN STYLE"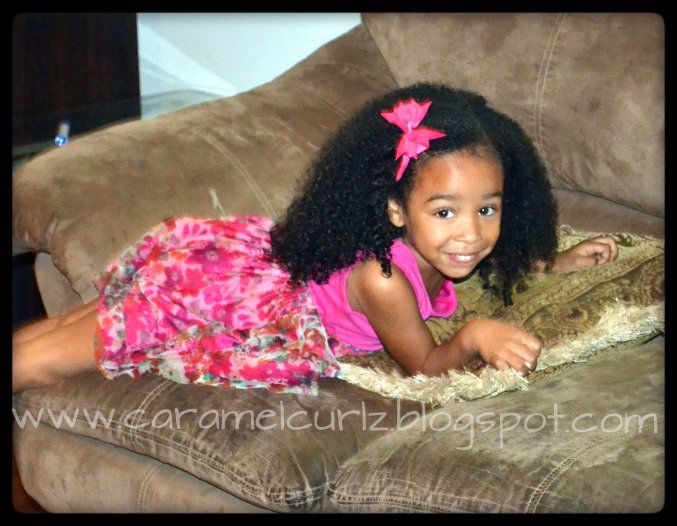 HOW TO GET THIS LOOK:
1. I washed Ms. Bree's Hair with Shea Moisture Raw Shea Butter Shampoo;
2. After I have applied the Shea Moisture Raw Shea Butter Conditioner, I detangled her hair by using a wide tooth comb.
3. Then I rinsed out the conditioner.
4. While her hair was still wet I applied Bee Mine Luscious Balanced Cream Moisturizer (Coconut Cream Scent-uhmmmm) and Bee Mine Curly Butter (also Coconut Cream Scent! Who me, a coconut fan??...) As I said on my Product Review...the only mistake I made with these products is that I DIDN'T BUY THE BIG JAR!
5. I used my fingers to make sure the products were distributed evenly on her hair (using the raking technique). Ms. Bree has a combination of curls, (some curls are more defined than others), on those curls that need extra help in order to dry nicely, I curled them using my fingers ("finger coils").
6. I left the towel on her shoulders so her outfit wouldn't get wet. It took approximately 4 hours to air dry and these were the results:
AFTER 3 HOURS OF PLAYING:
(How we love the southern humidity! NOT!!! Ms. Bree's Hair is like mommy's hair and humidity is our worst enemy and our curls get frizzy quickly. The difference with using the Bee Mine Products is that her curls were still looking amazing!!! The hair never got "crunchy" or "greasy".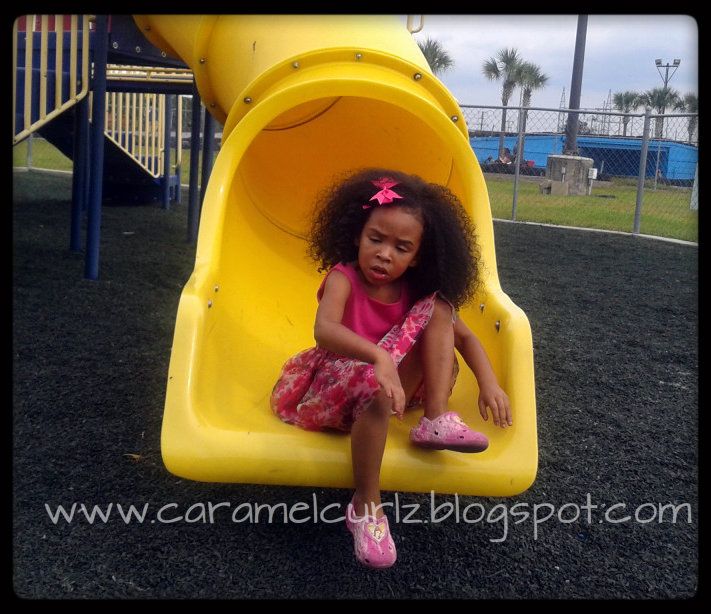 After the celebration was over, I carefully sectioned her hair (using only my fingers); sprayed a little bit of water and applied just a dab of Bee Mine Luscious moisturizer before I braided the section into a lose braid.
At the end we had about five lose braids.
Put her satin cap on, gave her a quick bath then Ms. Bree went to bed.